Bitcoin went on a real rollercoaster yesterday by pumping to a local peak of $30,000 before dumping just as hard by $3,000 and going up again to $29,000. Bitcoin's dominance keeps rising amid the latest price fluctuations. Most altcoins followed suit with similar volatility but have now calmed slightly in the red on a daily scale.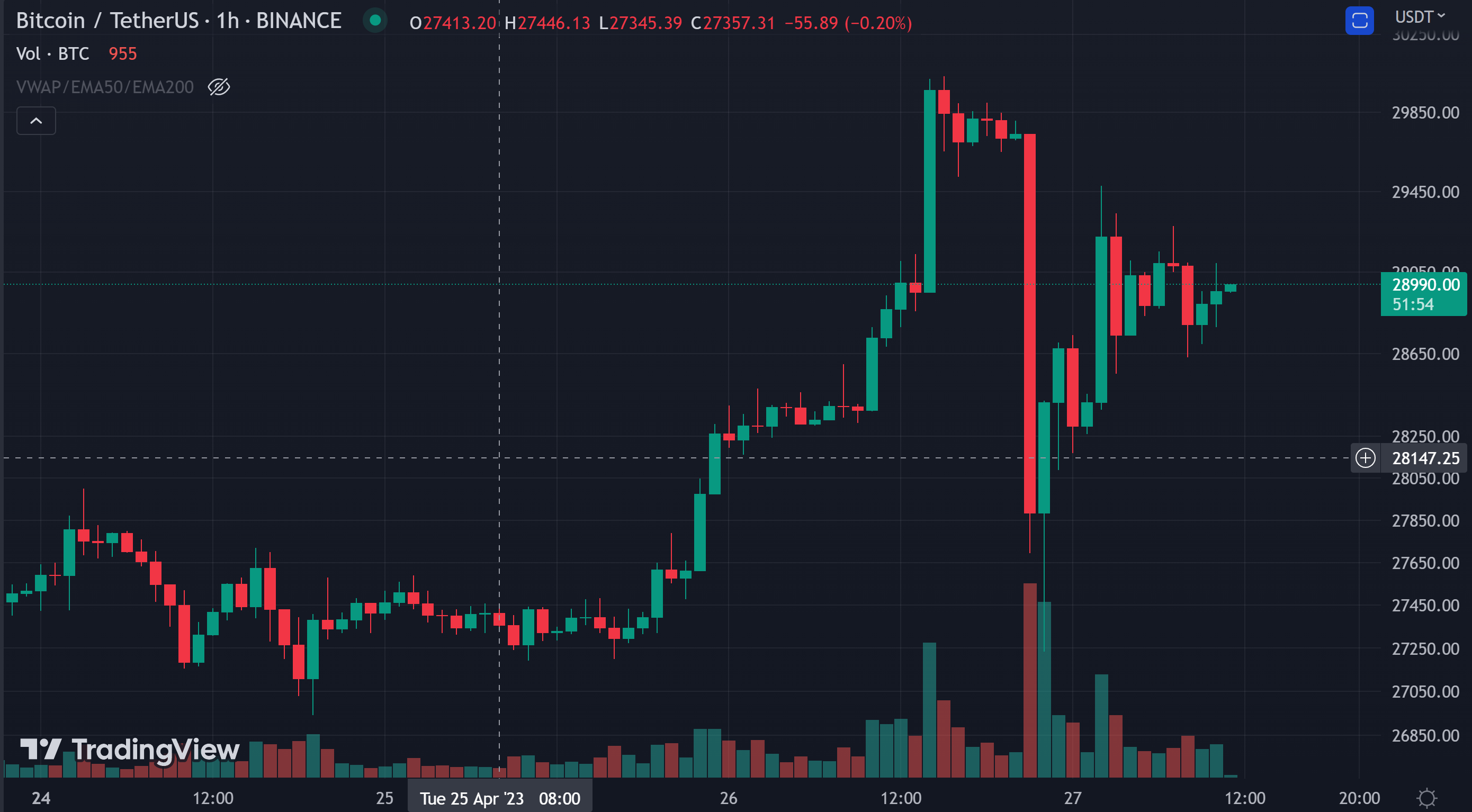 Bitcoin's Pump and Dump
The primary cryptocurrency rarely sits quietly in terms of price movements, which is why yesterday's rollercoaster was to be expected to an extent. This is because the asset stood in a tight range between $27,000 and $28,000 for several consecutive days.
BTC Skyrockets to $30,000, Leaving Shorts Liquidated
However, the trend changed when the bulls took charge and pushed BTC north hard. In a matter of a day, it skyrocketed to $30,000, leaving over $100 million in shorts liquidated. However, fake news emerged at this point claiming that wallets connected to the US government and Mt. Gox creditors have started disposing of their bitcoin.
BTC Dumps by $3,000 After Fake News Emerges
The consequences were felt immediately as BTC slumped by $3,000 to $27,200. As the reports were refuted, bitcoin went back on the offensive and recovered roughly $2,000.
BTC back to levels it was before the dump.
Bitcoin rebounded to pre-dump levels once the market realized that the cause of the sudden price drop was due to fake news. As soon as reports surfaced claiming that wallets linked to the US government and Mt. Gox were disposing of their bitcoin, panic ensued, and the market reacted by selling off. However, the refutation of these reports soon followed, and the market regained its confidence in Bitcoin. This led to a swift recovery of around $2,000, bringing the cryptocurrency back up to the $29,000 level. The incident served as a reminder of the importance of verifying information before making any hasty moves in the volatile cryptocurrency market.
Bitcoin's Current Price and Market Cap
As of now, the cryptocurrency trades at around $29,000, which is still a minor increase compared to its price 24 hours ago. Its market cap still stands above $560 billion, and its dominance over the alts is close to 47% after gaining over 1% in the past few days.
Alts in Red Now
As it generally happens when BTC faces extreme volatility, so do the alternative coins. The run-up yesterday drove ETH from $1,800 to almost $2,000, but the subsequent rejection brought it back down to the former. Now that the dust has settled, at least momentarily, the second-largest crypto trades at $1,900.
Cardano is the only larger-cap alt well in the green on a daily scale, having jumped by 3%. In contrast, Binance Coin, Ripple, Dogecoin, Polygon, Solana, Polkadot, Litecoin, and Shiba Inu are with minor losses.
CRO, yesterday's top performer following a partnership with Amazon, has retraced by over 5% now but still stands above $0.07.
The total crypto market cap now remains at almost $1.2 trillion, despite going up and down by roughly $50 billion.
Lessons Learned from Crypto Market Manipulation
The rollercoaster ride of Bitcoin's price in response to the fake news about wallets connected to the US government and Mt. Gox creditors disposing of their bitcoin highlights the vulnerability of crypto markets to price manipulation. This incident shows how misinformation and rumors can cause sudden and significant price fluctuations in cryptocurrencies, leading to the loss of millions of dollars in a matter of hours. It also underscores the need for investors to conduct due diligence and verify information before making any trading decisions.