Bitcoin and cryptocurrency traders are searching for direction, with the market more-or-less treading water since the summer.
The bitcoin price, hovering around $11,400 per bitcoin, has been trading broadly in line with equity markets in recent months—with groundbreaking announcements, including payments company Square SQ +1.6% buying $50 million worth of bitcoin, failing to much move the market.
Now, bitcoin investors might get the signal they've been waiting for, with Federal Reserve chairman Jerome Powell due to speak as part of a panel on cross-border payments and digital currencies at the International Monetary Fund's (IMF) annual meeting.
The live-streamed panel, starting at 8am EDT on Monday, October 19, will discuss "the benefits and risks of cross-border" digital currencies as well as their policy implications, the IMF announced late last week.
"This IMF webcast is highly anticipated in the crypto community and the chairman's attendance speaks volumes to it's importance in traditional finance," Mati Greenspan, the founder of market analysis firm Quantum Economics, said via Telegram, adding: "Central bank digital currencies (CBDCs) have increasingly been on the minds and lips of those who govern our money for obvious reasons."
"I will definitely be paying attention," bitcoin and crypto trader Scott Melker said via Twitter.
Joining Fed chair Powell on the panel will be the general manager of the Bank for International Settlements, Agustín Carstens; Nor Shamsiah, governor of Bank Negara Malaysia, and the governor of the Saudi Arabian Monetary Authority Ahmed Abdulkarim Alkholifey. The panel will be moderated by IMF managing director Kristalina Georgieva.
Back in February this year, Powell appeared to move the bitcoin market when he seemed to acknowledge the potential power of digital currencies during testimony in front of Congress—sending the bitcoin price higher.
Powell said Facebook's libra, a digital currency project that was almost regulated out of existence last year after being deemed too risky by most major central banks, was a "wake-up call" that a digital currency could come "fairly quickly" and in a way that is "quite widespread and systemically important."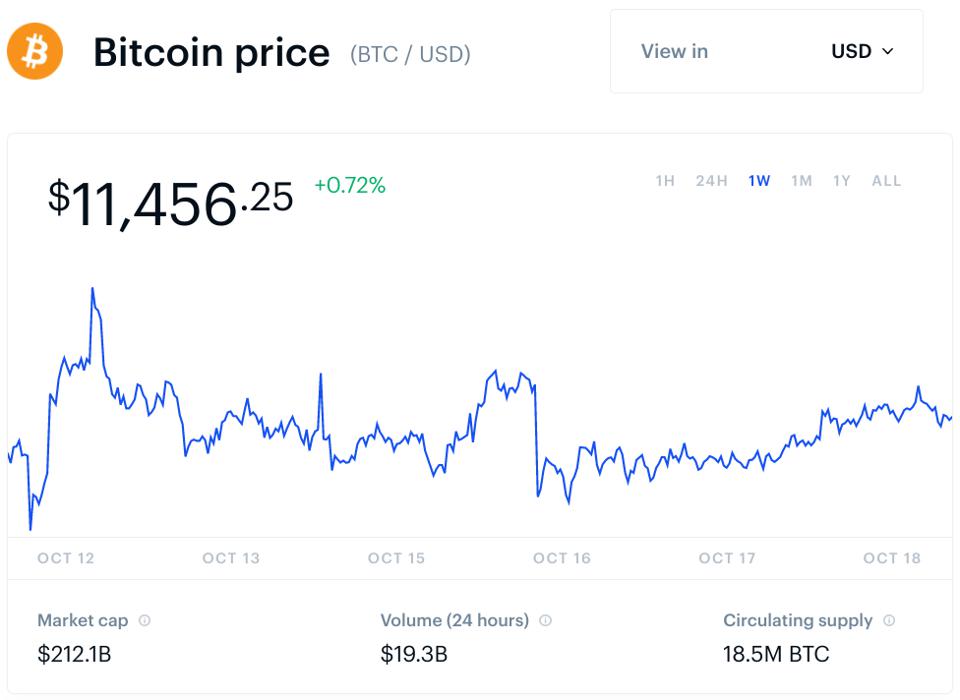 Bitcoin has been trading sideways over the last week, despite a number of big developments. COINBASE
Meanwhile, China has continued the development of its digital yuan—with reports out of China suggesting its launch could be imminent.
China's push toward a fully digitalized version of its currency, something that might see global trade move away from the U.S. dollar to some degree, has led to growing calls over recent months for the U.S. to issue a digital dollar, though any such plans remain at a very early stage.